In today's competitive business environment, companies are continuously looking for ways to streamline their payment processes.
Why? Because the traditional banking system doesn't have the tools to manage small, complex, corporate payouts, such as payments to gig economy workers, trade merchandising incentives, refunds, or insurance claims. The actual transfer of money is relatively easy, but what happens before and after is a challenge, and more complicated than many people might realise. Based on analysis undertaken with a couple of our clients, it typically takes over 20 steps to prepare the payment, from gathering all the necessary information, data, and approvals to performing validations and controls. Once the payment has left the account, all control is lost. There are many intermediaries, and you can't be sure if the money would reach the right person, let alone if the amount sent is actually correct and payment validated.
This is where Programmable Payments come in.
Programmable payments allow for the automation of the transaction preparation process, the definition of payout triggers, conditions, and parameters. Essentially the payment is coded with specific instructions that trigger the release of funds automatically. For instance, a marketing agency may program a trade merchandising campaign, where payouts are executed based on the receipt and verification of an image showing product placement that is in line with the marketing campaign guidelines. A Programmable Payment is therefore much more than a transfer of value and enables a significantly improved means of validation and an intelligently controlled approach to payouts. The underlying process aligns data (that can be received from different sources) with money and uses the latest innovations in financial technology, especially DLT and APIs.
At OneStep Financial PayEngage Platform we use payments programmability powered by Digital Money (regulated digital cash offered through partnerships with UK and EU-licensed e-money issuers).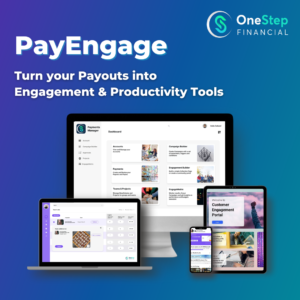 This approach provides several important benefits:
Firstly, with Digital Money we can make payouts using only beneficiary aliases such as a mobile phone number (instead of lengthy bank accounts). This reduces the risk of errors and allows for real-time execution. You don't have to collect and store any sensitive data anymore and your beneficiaries can decide how they want to collect the payout (e.g., to an e-wallet, bank account or via an ATM).
Secondly, you can control the release of the funds, which means that the money doesn't actually leave your account until the beneficiary decides to collect it and when the rationale for payment has been validated. Until that happens, you remain in control. Unlike in a prepaid card scenario, where the funds are paid out upfront, if the payout is not claimed within a selected timeframe, you can use the money for a different purpose.
Thirdly, programmability means efficiency – you don't have to send multiple emails and chase team members for updates, approvals, or confirmations. The beneficiary can upload a confirmation of the job done via the Engagement Portal. This confirmation will be instantly visible on our platform, and you may then choose to verify it manually or to use our powerful AI to do it for you. If you have coordinators on the ground, add them to the process – they will likely be the best people to validate task execution. It will help avoid coordination issues like overpayments and mistakes that can be costly to correct. Furthermore, it can prevent fraud and make the whole system leaner and more transparent. Streamlined processes take less effort so instead of mundane payment administration, you can focus on growing your business.
And finally, fourth – you can use the payout collection process to increase your customers' engagement, boost sales, drive productivity among workers or increase user loyalty. Our Engagement Portal can act as your marketing and communication channel through a bespoke engagement platform. Think for instance about exclusive promotions and opportunities to up-sell and cross-sell. Or imagine a worker productivity campaign where people are incentivized by instant cash rewards based on submission of the task confirmation and can track their performance in the Portal.
To conclude, Programmable Payments and Digital Money are revolutionizing the way businesses manage their payments. With the ability to automate transaction preparation, set parameters and triggers for payouts, and use the latest innovations in financial technology, companies can achieve greater efficiency, control, cost savings and onward engagement. At OneStep Financial we're building intuitive no-code solutions that will help businesses not only streamline their payments but also turn them into marketing, engagement, sales, and productivity tools.
If you'd like to learn more about Programmable Payments and PayEngage, leave your contact information through our website https://onestep-financial.com/contact-us/ or email us directly at hello@onestep-financial.com